We are specialist in precision machining and turning and for over 70 years Edirisinghe Brothers Limited has operated a workshop that handles all types of lathe works, milling, shaping and slotting works. Our workshop operates a range of modern conventional lathe machines allowing us to fabricate and turn mechanical parts such as shafts, pulleys, gear wheels, hydraulic shafts, bolts, pins, etc., See our Job Catalogue. The range of milling, shaping and slotting machinery allows us to fabricate small to large gear wheels and other mechanical components according to customer specifications and or samples. Our clients include those in industries like construction, infrastructure development like ports and marine/shipping, roadworks, power generation etc.,
We have capabilities of machining a wide range of materials including but not limited to
Edirisinghe Brothers Limited continues to be the lead mechanical workshop service provider for major infrastructure projects in Sri Lanka. EBL works with many overseas engineering companies working in Sri Lanka on projects like port development, road works and power generation for their mechanical workshop service requirements.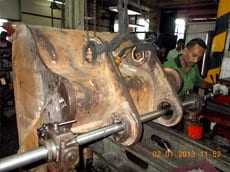 Line boring of large size 'seized' excavator bucket arm eyes.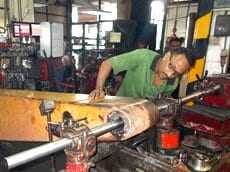 LIne boring of excavator bucket arm boom eyes.
Fabrication – Gear Wheels as per customer specifications.
Newly fabricated industrial gear wheel shaft – as per worn sample (on left) Final workpiece has been 'case hardened'.s.
Line boring of seized pulley shaft housing of a marine ship for re-bushing.
Lathe machining of the pulley.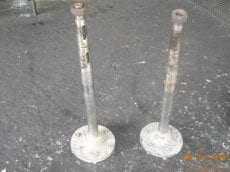 Damaged Marine Rudder Shafts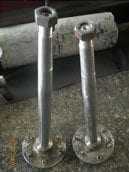 Newly fabricated marine/ship rudder shafts
Damaged mid-size ship propeller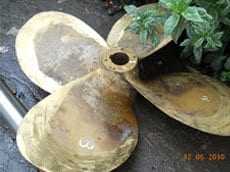 Repaired mid-size ship propeller
Damaged / Worn Fiber Gear Wheel
Newly fabricated fiber gear wheel as per sample.
Finishing of rebuilt large size marine / ship propeller
Loading of newly fabricated large size marine propeller
Line Boring of Toggle Arms for Garment/Clothing Manufacturer.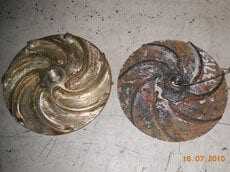 Casting and fabrication of industrial impeller as per sample on right.